Appointments System
GP appointments can be pre-booked up to four weeks in advance.
A number of appointments for GPs open up each morning at 08:00.
If all the GP appointments are booked the patient will be asked if another clinician i.e. Practice Nurse or Clinical Practitioner could help. If you feel they can't help then you will be offered the alternative options listed below.
More Available Appointments
Appointments are also available on the following days:
If your appointment is between the above times, please enter the building through the side entrance (the front entrance is not open until 08:00) then please take a seat in Waiting Area 'A' and the doctor will call you in personally. These appointments are primarily for patients who are not able to attend during our normal surgery hours.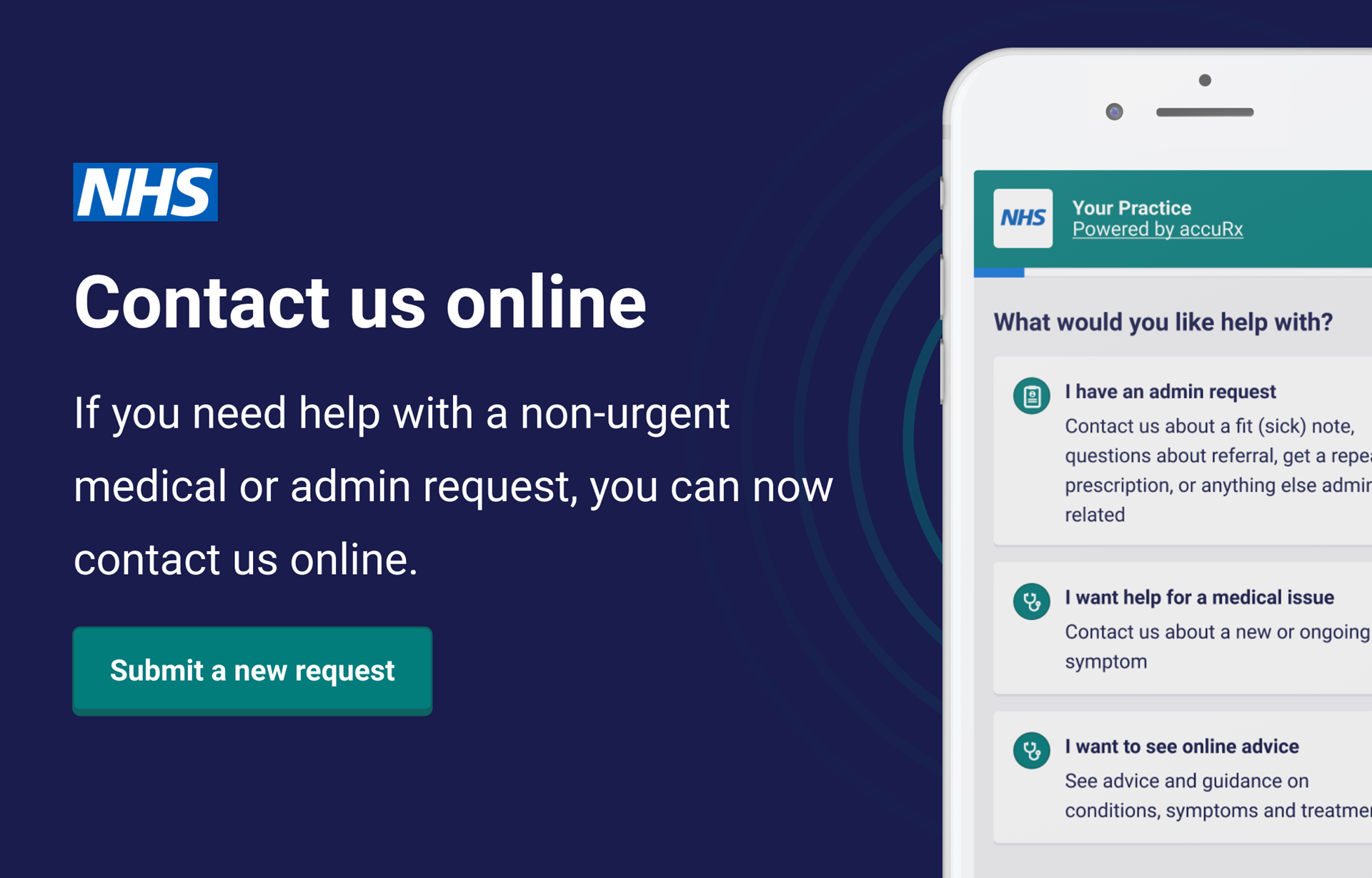 Urgent Appointment Requests
If the patient says that he/she cannot attend the Urgent Care Centre and it is a serious matter or an emergency, the receptionist will refer to a doctor. The doctor is responsible for deciding whether the patient needs to be seen at the surgery, or if the Urgent Care Centre is appropriate. We will deal with children under 5 on the day.
Internet Access
With the on-line facility you can book or cancel GP appointments, request a repeat prescription, send a message or change your address or contact details. This service is also accessible via Digital TV with SKY, NTL, VIRGIN or TELWEST using the interactive option on the remote control. Please ask at Reception for further details on how to register for this service.
Chaperones
The practice has the policy of using a chaperone during all intimate examinations. You have the right to ask for a chaperone at any time if the doctor wishes to examine you.
Practice Nurses
In a number of cases it might be worth considering an appointment with a practice nurse rather than a doctor. Practice nurses are qualified to deal with many conditions and you may be seen more quickly.
Home Visits
Whilst we encourage our patients to come to the surgery, where we have the proper equipment and facilities available, we do appreciate this is not always possible. In this respect, if you do need a home visit, you can help us by calling reception before 10:30.
You may only request a home visit if you are housebound or are too ill to visit the practice. Your GP will only visit you at home if they think that your medical condition requires it and will also decide how urgently a visit is needed. Home visits should not be requested due to lack of transport to attend the surgery and it is perfectly safe to bring babies and toddlers to the surgery even if they have a temperature or a rash.
Please bear this in mind and be prepared to provide suitable details to enable the doctor to schedule house calls
You can also be visited at home by a community nurse if you are referred by your GP. You should also be visited at home by a health visitor if you have recently had a baby or if you are newly registered with a GP and have a child under five years.
Cancel an Appointment
It is important that you inform the reception staff if you are unable to attend your appointment, this will allow that appointment to be offered to another patient. If you fail to notify the Practice that you are unable to attend, you will be sent a letter informing you that you have defaulted from your appointment. Persistent defaulters maybe removed from the list.
You can also complete our appointment cancellation notification request form. This can only be used if your appointment has been arranged for more than 24 hours in advance. (excluding weekends and public holidays). You can also text to cancel your appointment.
Text Reminder Service
We have a texting service which allows you to receive confirmation and reminders about your appointments.
To have this service you will need to register by completing a consent form.
Please remember to update your contact details with us when you change address, telephone numbers and email address.
Teaching & Training
We frequently have medical students attached to the practice who sit in on the consultation with your GP.
If you wish to see your doctor alone please tell the doctor or receptionist and the student will be asked to leave.